Let me start by saying that according to my birth plan, I would give birth at home in a birth pool with my partner, my mid-wife and my doula around me. In the Netherlands this is possible after week 37.
It looked like a normal day
I was in week 39 + 3. After bringing my son to the day-care I went to the gym. After the gym I ate, and I had a nap. I woke up and my waters broke. I called my midwife.
My parents in law picked up our son from the day-care to spend the night with them. It would be for the first time that Florian would be without me or without his dad, sleeping somewhere else. I didn't like him to be away, but I had to focus on relaxing and resting, which doesn't happen with a toddler running around.
According to the protocol, I had 24 hours to get in labour, otherwise, I had to go to the hospital and get induced. It is a funny thing to start the birth process with broken membranes (when your water brake). Suddenly it all gets very real.
I waited 24 hours, but I didn't have (noticeable) contractions. We had to make a decision.
Shall I follow the protocol or take the risk and go my way?
Do I follow the protocol and get induced in a hospital or do I wait a little longer for a natural birth to start and I take a risk of getting an infection?
We went to the hospital to get a swap and check for a particularly dangerous bacteria which one of five women has. Luckily, I didn't have it, so the chances of infections were not that high, and the risk was acceptable to us.
We decided to wait and to draw the line at 72 hours. If 72 hours after my waters have broken, labour hasn't started, I would go to the hospital.
I really didn't like this scenario. The birth of my son (almost 3 years earlier) was planned as a home birth, but because my waters broke in week 36, I had to go to the hospital and stay there for a week (till I was in week 37) and then get induced.
Don't get me wrong, the hospital stuff in the Netherlands is very respectful of your birth wishes and the birth itself is not too medical. However, it is a hospital, and they have protocols to follow in order to reduce risks and potential issues. You just get a constant foetal monitoring, different mid-wife's, nurses and obstetricians are getting in your room…the induced labour usually brings sharper contractions…so not ideal.
I just wanted to be at home. In my own nest. I had positive birth affirmations and mantras on the wall, candles, sandalwood incense, music, amazing snacks, my own bed, pillow and everything else I might need.
When will I get in labour?
So I was with broken membranes, but without contractions. And we did our best to get the labour starting. I was trying to stay relaxed and to enjoy. We had long walks in the park and a lot of cuddling with Rogier.
For already 2 nights Florian was at his grand-parents and I was missing him a lot. Not really knowing when I will see him was very hard for me. And he likes his grand-parents, and they were having fun, but it was just a little bit too long for me to be without him.
Finally it started!
In the evening before the 72 hours mark, I started having stronger and more regular contractions. I called my mid-wife and my doula.
The contractions were really painful. I already gave birth once without pain killers (then I was induced, and they say that with induced labour the contractions have even sharper edges). For some reason I was expecting the non-induced natural birth to be a joyride, but I had hard times coping. I haven't taken into account the fact that this baby was significantly (as it turned out later – with 600 gr) bigger than my first one. And this matters!
What a challenge for my mind!!
I had Rogier and my doula applying pressure on my back during the contractions, which was helpful, but I was not on a place of peace and acceptance. I was resisting the pain.
I asked the mid-wife to feel how far dilated I was. I was in active labour for more than 2 hours, so I was expecting to be quite ahead. I was not. I had only 3 cm dilation and this completely broke my spirit. I needed a pep-talk from my doula, trying to get my mind in a state of allowance.
I was feeling tired, and I was experiencing a serious self-doubt. The doula suggested that Rogier and I we go and lay down on the bed to rest. This was a good idea.
Allow & Embrace
I found a comfortable position. Rogier spooned me and in the intimacy of the moment I found my strength and my "allow & embrace" bubble. I was able to stay relaxed during the contractions. This made the pain more manageable.
Maybe 2 hours later, I felt that the sensations have changed. The baby was moving down. I recognized the adrenaline in my body that was making my belly muscles contract, making me want to push. The sounds I was making have changed. The polar bear in me was awaken. I felt strong and ready.
It's time to get in the pool
Then the mid-wife helped me get off the bed and get into the birth pool. Oh! It felt soo good. My body was light, the water was warm and pleasant, and it was a natural pain killer.
I found the squatting position optimal for me and I was pushing with every contraction. I felt that the baby is close, and I asked Rogier to join me in the pool.
Few contractions more and the head was out. While I was waiting for the next contraction to push and birth the body, my baby decided to find a more comfortable position, so with her head out she was moving…. AAAAH! This was a different level of the game. A big, big stretch! I just wanted her to stop!
She is born!
Luckily the next contraction came, and I pushed. The mid-wife helped by pulling a little bit the body, so that it gets out. And she was born! Oh, what a relief!
I am so happy! We are cuddling and enjoying Valeria in the pool.
Then around 45 minutes later, the placenta was also born. Then Rogier took a quick shower and went on the bed together with Valeria and the placenta. After that I got out the pool, showered and joined them in bed. We were just resting and enjoying the moment. Maybe two hours after Valeria was born, I cut the cord. Then the mid-wife checked the baby for a minute or two and brought her back in our arms.
Now we are complete!
The next day Florian came and met his sister.
I have recovered very quickly. I had only 1 (cosmetic) stitch.
I feel grateful that Valeria has chosen us for her parents and for my body for being strong and adaptable to give her this gentle transition from the womb to our world.
I wouldn't have experienced this amazing birth without my beloved Rogier, our doula Sophie and our mid-wife Pascalle. To have the team that supports us complete, I need to mention our lovely postpartum doula – Krystel as well!
What a journey!
P.S. What I have learned about myself and my second birth process
5 days after the birth, we were going through it again with Rogier and our doula Sophie. It is really valuable for me to look back at what has happened, to share the thoughts and the emotions I have experienced throughout the process or that I am currently experiencing.
During this conversation I got quite some new insights: I was looking into why I have experienced this labour more painful than the first one. Haven't I forgotten how intensive it was the first time or what was different now. Few things came up:
During my first birth, I had contractions for 4-5 days before I was induced and gave birth. So my pain baseline has gotten higher and I was able to take more pain easier
My expectations were that as a second natural birth, it will be easier and less painful. So the reality got me by surprise.
I wasn't as well prepared. Having a child already and a very dynamic life, left less space to connect to my body, to my baby and to Rogier on regular basis. While I made sure to stay healthy and physically strong, I was less active on working on my mindset and emotional state. I simply gave priority to other things in my life.
I was giving birth at home and while I was imagining coziness and comfort (which was the case), it also kept me aware of my surroundings, what objects were were and what the people were busy with. So, it was a little bit harder to create my own bubble and to turn inward.
And the baby was bigger, which also changes the sensations.
Another big difference from the first birth was that I didn't have the ecstatic feeling during the pushing phase which I had during my first birth. This was because while my baby was descending, she was also pushing with her legs in my womb, which I've experienced as a strong pain in the belly. I guess this is also the reason why I didn't have the strong empowerment and euphoric feelings I had during the first birth.
Blessings to all parents and to all children!
You want my pregnancy management guide?
I've created for myself an overview of everything I've done during my pregnancy to prepare for my dream birth. It is an overview of the books I've read, the mobile apps I was using, the movies I've seen, the supplements I was taking, a list with (free) online resources, and maybe most importantly my daily routine
Yes, I want it!
Related blogs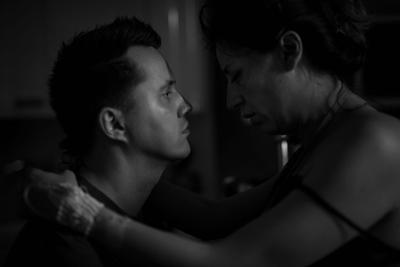 Personal
From the moment I told him that I am ready, through my experience of pregnancy and finally becoming a mom. All my emotional highlights